Propcycle
This arcade game is like a "spinning" class at the gym only much more fun. The controller is a stationary bicycle complete with working handlebars. Like so: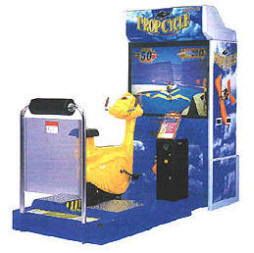 Onscreen, your efforts control a pedal-powered hanglider that navigates a fantasy world popping balloons and trying not to crash into things. The glider needs to maintain forward momentum or it stalls, so you need to keep pedaling. It is possible at times to build up speed and then coast for a bit. Unlike most games with a timer or racing component, this one rarely encourages the player to travel as fast as possible. Instead, it imposes the natural real-world constraint that faster planes have a reduced turning radius and tend to overshoot their targets. Playing well demands a nice mix of fast, slow, and no pedaling.
Exercise type: aerobic, legs.
Disadvantages: there's no home version and it's hard to find in US arcades. Since you can't control the resistance level, the exercise component might get to be too easy if you play a lot; it doesn't scale in difficulty as easily as some games.
(Namco, 1996). Screenshots can be found at the
Killer List of Videogames
.
Share this: